On This Day in Oil & Gas: 31st May - Final Model T Produced
---
---
---
31st May, 1927, Highland Park, Michigan, USA – The conveyor belts whir to a halt and tired workers down tools. The end of the working day at a factory in Wayne County signals the end of an era.

Six days after he saw the 15 millionth "Tin Lizzie" roll off the assembly line, 64-year old Henry Ford brings the curtain down on the Ford Model T at car number 15,007,003. In 1908, craftsmen at Highland Park were only be able to construct several vehicles per day, 19 years later they were producing a car every minute.
The Model T was the first global motor vehicle, produced in 14 locations across nine different countries from Brazil to Australia. But what has this got to do with oil and gas? Well, in 2012, there were 1.1 billion cars in the world?

And what do most cars run on? Roses??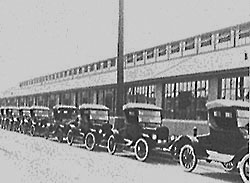 _______________________________

LEARN MORE:
Have Your Say


Rate this feature and give us your feedback in the comments section below