On This Day in Oil & Gas: April 19th - Richard Edler Von Mises
April 19th 1883, Lemberg, Austria-Hungary – A second son is born into the household of Arthur Edler von Mises and Adele Landau in capital of the Kingdom of Galicia and Lodomeria (yes really). Richard Edler von Mises and his older brother Ludwig Heinrich Edler would follow their father into academic life and, in time, become leading lights in the fields of mathematics and economics respectively.
Alongside other luminaries, Richard would join the positivist "Vienna School" that believed all authoritative knowledge could only come from the proofs of scientific and empirical method. Hardly a laugh-a-minute bunch, I know, but out of these hours of rigorous contemplation, von Mises developed the Distortion energy theory of stress and the von Mises yield criterion, one of the most important concepts used in material strength calculations. And where would the oil and gas industry be 2500 metres down at 150°C and 10,000 psi without that?
P.S. Find more info about the life and times of Mr von Mises here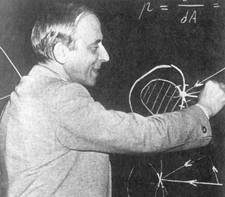 _______________________________

LEARN MORE:
Have Your Say


Rate this feature and give us your feedback in the comments section below
You Should Check Out: