On this day in oil and gas: July 19 - SS Great Britain
---
---
---
July 19th, 1843, Bristol, United Kingdom – It is a dreary Wednesday morning at Bristol Docks. Despite the drab conditions, thousands line the quayside in anticipation. By midday they will have all witnessed a piece of maritime and world history.

The event that everyone in town - including the Royal Consort, Prince Albert – had come to see, was the launch of the SS Great Britain, brainchild of engineer supreme, Isambard Kingdom Brunel. Five years in the making, when she floated out she was a record-breaker - the largest ship ever built by more than 1,000 tons. While this was impressive, her real innovation was lay beneath the surface. SS Great Britain was the first iron-hulled, ocean-going ship to be driven by a screw propeller. Although there were many teething problems with the design – the ship rolled frighteningly in rough seas and ran aground in her second year of service – the fuel economy and efficiency of the screw propeller versus the paddlewheel made it the method of propulsion of choice for sea-going craft to this very day.

And where would oil and gas be without seafaring, eh?


PS Find out more of Kingdom Brunel's engineering feats here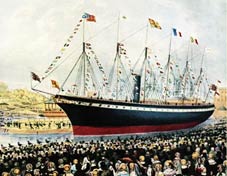 _______________________________
LEARN MORE:
Have Your Say


Rate this feature and give us your feedback in the comments section below