On This Day in Oil & Gas: June 7th - Treaty Of Tordesillas
---
---
---
June 7th, 1494, Tordesillas, The Kingdom of Spain – Six Iberian nobles put quill to parchment in the small town of Tordesillas outside of Valladolid, the capital of Castilla y Leôn. Don Enrique Enriques, Don Gutierre de Cardenas, Dr Rodrigo Maldonado, Ruy de Sousa, Joao de Sousa, and Ayres Almada had just signed one of the world's most daring documents – they have just divvied up the world.

Drawn up by Pope Alexander VI, the Treaty of Tordesillas as it became known, divided disputed trading and colonising rights for all newly discovered lands of the world between the Kingdoms of Spain and Portugal. All lands west and south of a pole-to-pole line 100 leagues west and south of any of the islands of the Azores or the Cape Verde Islands would belong to the former.

The rest of Terra Firma would be fair game for the latter. So history was made and the linguistic and cultural heritage determined for nations from Chile to the Philippines. They also happen to represent 351.3 billion barrels of proven oil reserves, so it's quite important to us all.
PS For the text translation of this seminal document, click here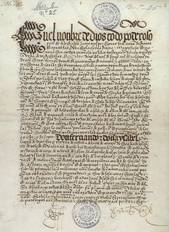 _______________________________

LEARN MORE:
Have Your Say


Rate this feature and give us your feedback in the comments section below