On This Day in Oil & Gas: October 5th - Chester Alan Arthur
---
---
---
Today would have been the 183rd birthday of one of the USA's "forgotten Presidents", one Chester Alan Arthur.
One of the reasons the Vermonter has been somewhat erased from the public memory is that he was never voted into office, having taken over the Commander-in-Chief's role after the assassination of predecessor James Garfield.
MORE: Get the latest Oil and Gas Prices
MORE: Search Thousands of new Oil and Gas Jobs
A standout event in his tenure was the formation of the Standard Oil Trust in 1882, where the disparate parts of the Rockefeller business empire were merged into one megalithic entity with tremendous financial sway and a shadowy legal existence.
By the time it was dismantled under anti-trust legislation in 1911, it would have been worth around $1 trillion in today's money, with some of its constituent parts surviving today in companies like ExxonMobil and Chevron.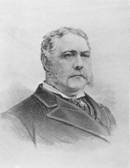 LEARN MORE:
Have Your Say


Rate this feature and give us your feedback in the comments section below