On This Day in Oil & Gas: November 30th - Mark Twain
---
---
---
November 30, 1835, Florida, Missouri – The sixth child of Jane and John Marshall Clemens is born as Halley's comet streaks through the night sky.

Samuel Langhorne Clemens would become an apprentice printer at the age of 12 and would start his journalistic career contributing satirical sketches to the local paper at 16. With a thirst for adventure, Sam would enrol as a riverboat "cub" on the Mississippi where he would learn that the safe depth for the steamboat - two fathoms – was called Mark Twain. The rest is literary history.
MORE: Search Thousands of new Oil and Gas Jobs
So what has this got to do with oil and gas? Well Twain might be one of the most quoted men in the English language but he had the financial nous of Huck Finn's paddle.
MORE: Search Thousands of new Oil and Gas Jobs
With bankruptcy looming and on the verge of selling his copyrights, he was eventually bailed out by one Henry Huttleston Rogers, the then Vice President of Standard Oil. So don't say the oil industry never did anything for cultural heritage!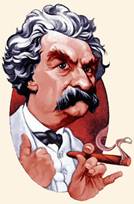 P.S. For some more facts about Mr Clemens, click here
LEARN MORE:
Have Your Say


Rate this feature and give us your feedback in the comments section below